Only the combination of high-performance resins with scientifically based expert knowledge from all areas of the digital workflow leads to cumulated expertise, to truly innovative products, and thus to an unlimited choice of materials. FREEPRINT® materials are validated for all standard DLP printers.
Detax Freeprint Materials
Additive manufacturing of medical devices has increased not only the importance of the materials themselves, but also the demands on their properties. Highly differentiated material properties enable ever new applications for dental 3D printing.
Our validation portfolio is continuously being expanded with new materials and qualified printers. To this end, our experts check and document complete process sequences in accordance with the relevant standards and regulatory requirements. This ensures permanently reproducible results and constant product quality.
Digital Workflow requires profound material competence and a close cooperation with the technology partners in order to perfectly match individual elements of the process chain. For transparency and process reliability, all FREEPRINT® instructions for use comprise an overview of validated printers, certified finishing equipment (post-exposure, cleaning, etc.) and detailed flowcharts of the manufacturing process.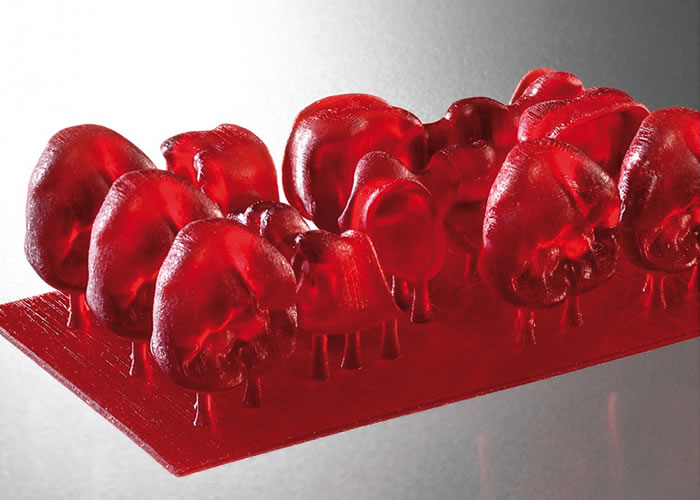 FREEPRINT® cast
Light-curing resin for the 3D printing of cast objects using precision casting technology
Burns without residue in the mould, even with large volumes. Embedding is performed with phosphate-bonded standard embedding compound. Precise reproduction of the finest surface structures. Low-viscosity approach for low material consumption and more rapid cleaning. High process reliability and precision in construction.
Red – 385nm or 405nm – bottle of 500g or 1000g
FREEPRINT® gingiva
Light-curing resin for the 3D printing of flexible gingival masks for dental models
For 3D reproduction of functional gingival model segments in a digital workflow in conjunction with FREEPRINT® model. Excellent elasticity and tear-resistance. Excellent dimensional stability, no shrinkage or aging, ductile even when stored over a long period. No annoying or unpleasant odors from fabricated gingival masks.
Gingiva – 385nm – bottle of 500g or 1000g
FREEPRINT® model
Light-curing resin for the 3D printing of dental models
Precise reproduction of details, maximum surface hardness and shape stability. Maximum precision in construction, feel and stability meet the high demands of model production. Opaque colour adjustment for the optical detection of surface structure, preparation margins, etc.
Ivory – 385nm or 405nm – bottle of 1000g
Grey – 385nm or 405nm – bottle of 1000g
Sand – 385nm or 405nm – bottle of 1000g
FREEPRINT® splint
Light-curing, biocompatible resin for the 3D printing of drilling templates for implantology, X-ray templates and occlusal splints.
Clear-transparent formulation for visual control in the working area. Process reliability through high initial hardness and final strength. Low-viscosity approach for low material consumption and more rapid cleaning. High mechanical bending and breaking strength, without being brittle. BPA-free, neutral odour and taste. Medical device Cl. IIa,
Clear-transparent – 385nm or 405nm – bottle of 1000g