The innovative DiOS 4.0 intraoral scanner combines all the benefits of digital scanning technology and is available at an unbeatable price. Reap the benefits of lifelike colour scans, realistic, accurate and detailed images, and maximum openness during data exchange, all delivered at a remarkable speed.
Digital precision does not have to be out of financial reach
High ROI
The DiOS® 4.0 scanner was created with a high Return On Investment in mind. The design and software allow for an unparalleled performance at a very competitive price.
Flexibility
The DiOS® 4.0 uses an open CAD/CAM system, allowing you to export STL files and share it with your preferred lab, or to easily transfer files and track your progress throughout the entire workflow.
Impressive Speed
Using two high-speed cameras, the DiOS® 4.0 scans quickly and efficiently. With its intelligent scan detecting algorithm, the DiOS® 4.0 picks up where it left off for a smooth scanning experience.
Powderless
The DiOS® 4.0 does not require the use of powder for regular cases, making the scanning process more seamless and the experience more pleasant for the patient.
Small tip
The small tip on the DiOS® 4.0 is beneficial to both the user and the patient through simpler maneuverability and improved patient comfort.
High resolution
The DiOS® 4.0 produces realistic images which are high in resolution and rich in detail, allowing you to distinguish between tooth structure and soft tissue for easy identification of margin lines and undercuts.
Accuracy
| | | | |
| --- | --- | --- | --- |
| | In vitro* Trueness | In vitro* Precision | In vivo** |
| Single | 5.3μm ± 0.34 | 3.2μm ± 0.49 | 10μm |
| Quadrant | 17.3μm ± 0.43 | 6.3μm ± 0.63 | 25μm |
| Full arch | 21.0μm ± 1.48 | 22.6μm ± 7.55 | 50μm |
*Accuracy test in vitro was conducted by Yonsei University College of Dentistry according to the methods in "Accuracy comparison analysis on scan data of single tooth, quadrant, and full arch between two types of intraoral scanner, i500 and Trios 3" Ji-Man Park, 19 December 2018.

**Accuracy test in vivo was conducted by Medit.
Video type
There is no need to worry about choppy results with the DiOS® 4.0 as it takes rapid video based scans, capturing more data in a short period of time. The resulting image taken by the dual cameras is hence smoother and more detailed.
Lightweight
Scanning can be uncomfortable and tiring, especially if you're using a heavy scanner. But that problem has been eliminated with the DiOS® 4.0 scanner which is light in weight and easy to hold, making the process a comfortable one for you.
Vivid color
The DiOS® 4.0 scanner produces precise-colored scans which can distinguish between soft tissue, plaque and tooth stumps.
Single button control
The single button of the DiOS® 4.0 allows the user to start and stop the scan at any moment without having to reach for the computer. Press the button down once to start scanning, and another time to stop. When the scan is complete, hold it down for approximately 3 seconds to move to the next scanning stage.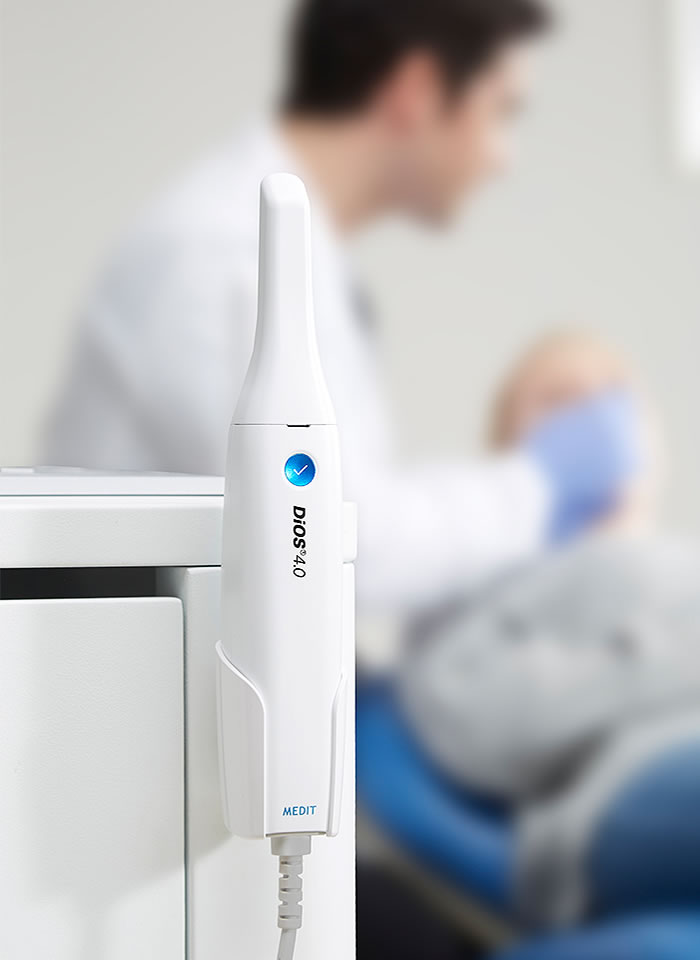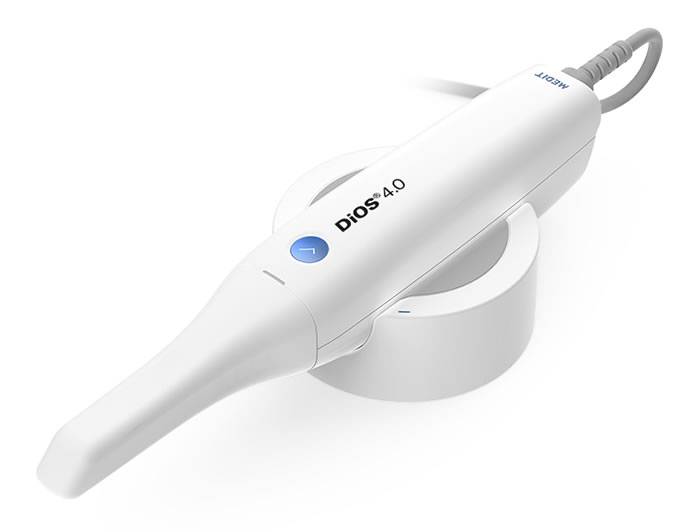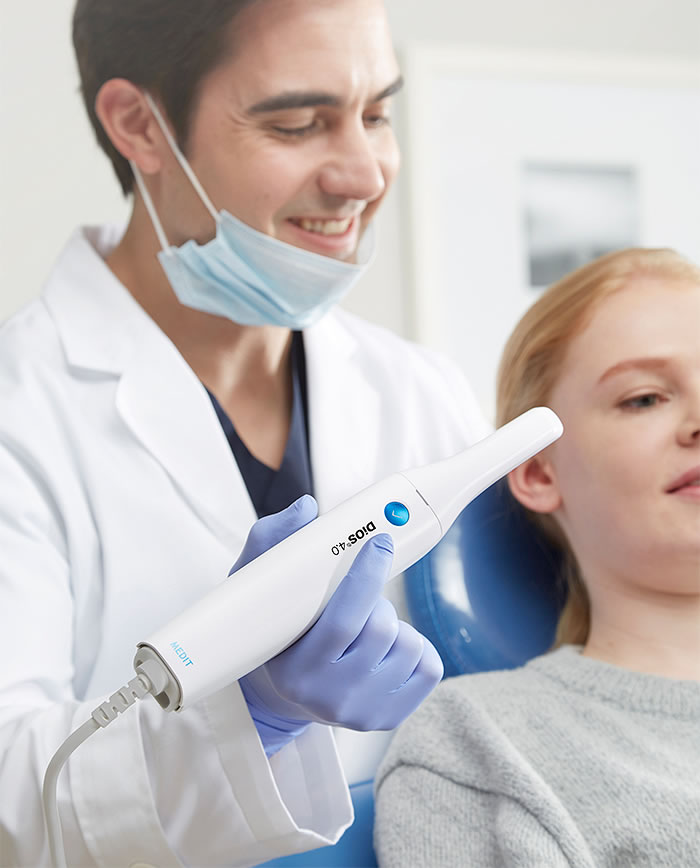 Perfect Software and Hardware Combination
Using the DiOS® 4.0 and the Medit Link software is a pleasant experience. It is easy to understand for all users, and it is simple to incorporate the system into your practice or lab.
User-friendly UI
The software user interface is intuitive with a streamlined process so you can spend less time on scanning and more time on diagnosing and treating your patients.
Pre-Operation Scan
You can perform a pre-operation scan of a patient's teeth and utilize this data for a variety of uses. With this pre-operation scan data, the post-operation scan can be performed more quickly and easily. The data can also be used as reference data in the modeling process to assist you in creating more natural prosthesis.
Impression Scan
This function supports composite scanning operations which use both embossed oral scan data and engraved impression scan data. With just a simple scan, both data can be sorted and merged in real-time and used for modeling.
Undercut Area Analysis
This feature allows you to analyze the undercut area based on insertion direction. You can set the insertion direction via two methods (auto or manual direction).
Automatic Alignment
The DiOS® 4.0 scan software automatically finds the occlusion with a simple scan of the bite.
Occlusion Analysis
The occlusion analysis function quickly analyzes the occlusal state of the maxilla and mandible, displaying the results in a color map with numerical values. The color map shows the degree of occlusion in different colors and displays the corresponding values when you move the cursor over each area. You can also check the distance between the prepped tooth and its antagonist.
Scan Replay
The scan replay function allows you to replay a previous scan process. By virtually showing the scan tip and scan area, you will be able to see how it was scanned, enabling you to identify and improve your scanning methods or habits.
High Resolution Scan
You can select specific parts of the tooth to scan at high resolution. This function allows you to scan in HD only where it is required, enabling efficient management of scan time, data capacity etc. The selected area is displayed in a different color for ease of use.
Lock Area
You can lock the scan area by painting it and locked (colored) area will not be updated by further scanning. Use this feature to fix retracted gingiva after immediate scanning as it might collapse. You can still trim the locked surface. Deleted locked surface can be re-scanned.
HD Camera
Along with 3D Scan function, this function allows you to use the scanner as intraoral camera to take HD pictures. You can share images with a lab and use them when consulting patients.
Specifications:
| | |
| --- | --- |
| Tip Size: | 19 x 15.2 mm (W x H) |
| Overall handpiece length: | 266 mm |
| Weight: | 276 g |
| Imaging technology: | 3D-in-motion video technology |
| Color: | 3D full color streaming capture |
| Connectivity: | USB 3.0 |
| Scanning area: | 14 x 13 mm |
| Scan depth: | 17 mm |
DiOS is manufactured by MEDIT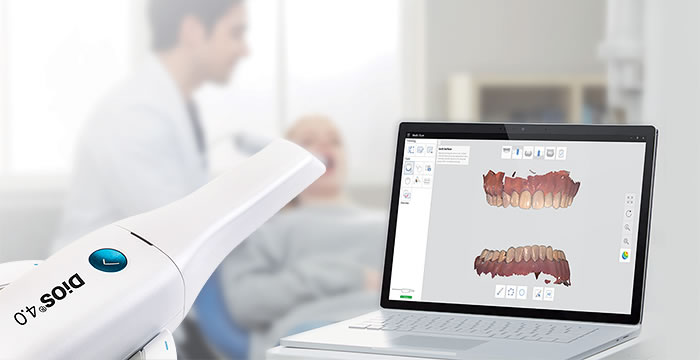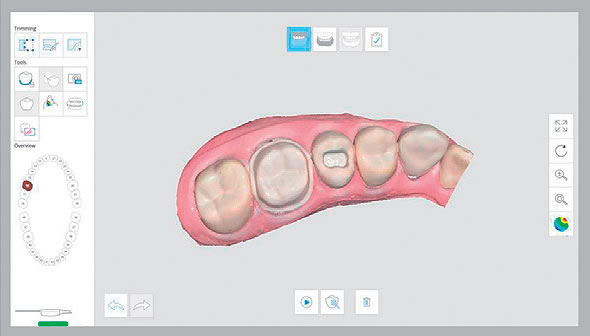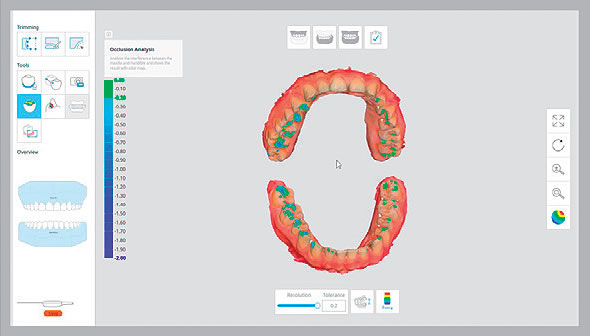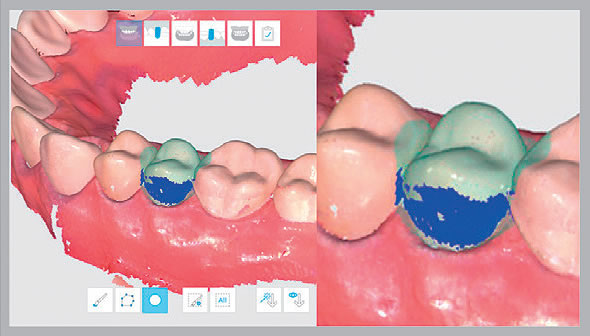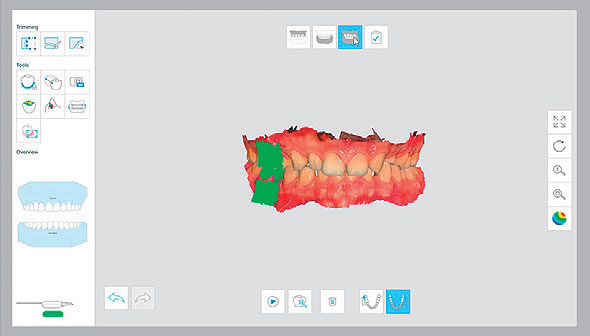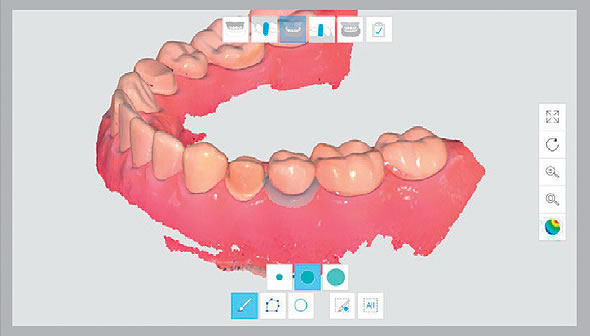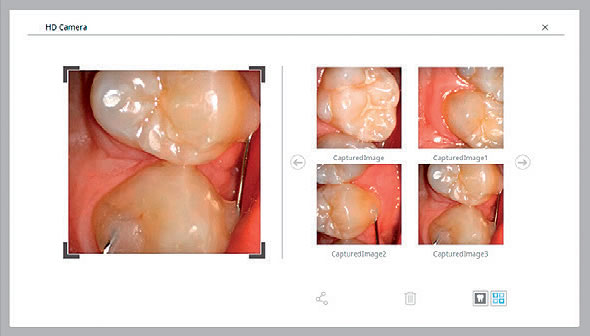 Medit Link Software
The Future of Digital Dentistry: A Collaboration Tool for Dental Clinics, Denturists and Labs
With the advent of digital technology, collaboration between dental labs, dentists and denturists has never been easier.
Working Together is Better
Medit Link is a collaborative tool that facilitates communication between dentists, denturists and labs to support patient-centered digital dentistry workflows. Its integrated cloud storage and open data architecture ensures that your performance is optimized while supporting your everyday CAD processes with its real-time workflow management and communication tools.
Cloud Storage
Cloud storage is becoming a basic necessity as files and information go digital. That is why Medit Link is packaged with cloud storage which provides you with the ideal storage space for all of your patients' files. You can save both digital impressions and patient treatment information securely on the cloud. Medit Link facilitates automatic uploading and downloading of databases and files via Amazon's AWS. Data is automatically synchronized from the PCs of multiple users within the same company; technicians can work conveniently from any PC where Medit Link software is installed.
Medit Link and the DIOS 4.0
Medit Link helps you manage DIOS 4.0 scan data and order prostheses. Medit Link generates information related to the scan, allowing the DIOS 4.0 to scan properly. Once the scan is complete, Medit Link automatically uploads the scan file to the cloud and facilitates ordering and payment to contracted laboratories.
Workflow Management
Dentists and denturists can easily order prostheses based on data generated by Medit Link. Clinics can also communicate about items and prices with dental labs through contract services provided by Medit Link. Medit Link allows tracking of workflows from order to delivery and can even be linked to CAD/CAM software to improve work efficiency. This collaboration tool was created to help you manage your workflow in the easiest and most effective way possible, saving you valuable time.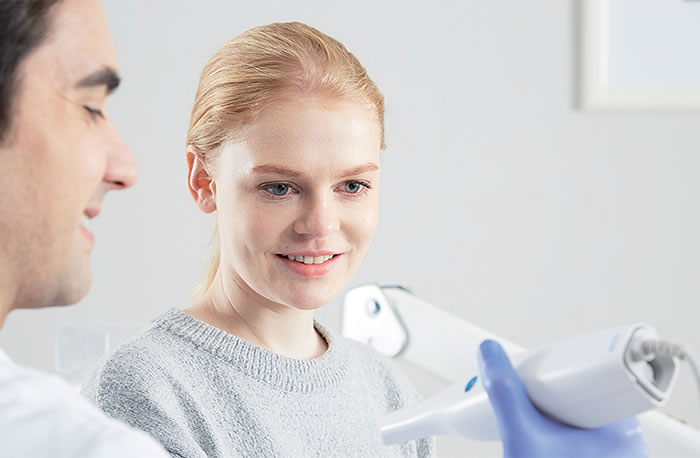 Fueling Growth Initiatives
Medit Link makes workflows more reliable, flexible, and scalable. It helps improving communication and makes sense of massive amounts of data. Above all, our technology expands to fit your business needs, increasing speed and efficiency. With our collaboration tool for digital dentistry you can stay focused on your important tasks as Medit Link provides you a convenient overview of all your current digital processes.
3D Viewer
After completing the scanning process in the DIOS 4.0 scan software, you can preview the final image via the 3D viewer in Medit Link.